Do you have fish that are in poor health and simply don't know what to do about it?
We can help you with as many sick pond fish as you have.
Here at Ponds by May fish rescue, we rescue, medicate and relocate pond fish.
Don't worry your fish are in good hands.
We professionally bring in fish and medicate them for you at our facility.
Our facility has many stock tanks, so we have plenty of room for your fish.
Many of the fish we have already rescued are oversized and can no longer live comfortably in their original pond and need a new home.
If you have pond fish that you simply don't want or have the time or space for, give us a call.
Additionally, If you have a pond and want fish we have an adoption program to figure out what you want and what fish we recommend for your pond's size.
Once your selection has been approved we will schedule a delivery date on which we will deliver the fish to your house and personally release them into your pond with loving care.
Due to filtration and circulation issues, however, you may not be able to adopt some fish.
Given that, if you have some of these issues in your pond we are truly sorry for the inconvenience.
In other words, we just want these fish to live the best healthy life they possibly can.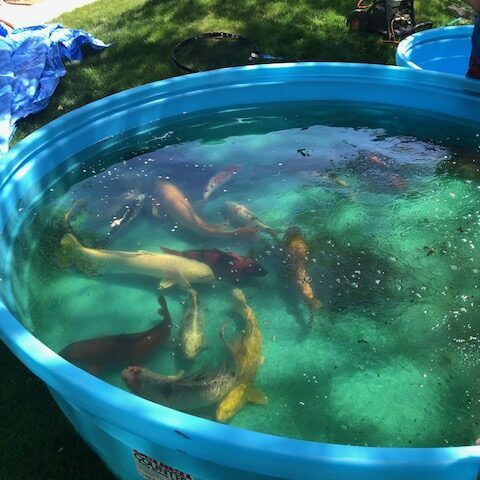 At Ponds by May, we are prepared for you and your family.
In addition, for the protection of our customers and our employees, we're keeping up with the guidance of the W.H.O. and the I.C.C.
Moreover, we are on top of the most current information available to businesses regarding Covid.
Be sure to visit our Gallery.